Color Enhancing Agent for Black Polyester
Fibers : AFH-2009X
AFH-2009X is improvement agent to be deep in color of the formal black dyeing on polyester fabrics. As AFH-2009Xis consisted of silicon compound, the finished goods show its own special silicon touch and softness. Please click here for more information.

The 21st century will be called "century of water"
Water is required in order to maintain a life. The quantity of the water which exists on the earth is called about 1,400 million km3. The amounts of fresh water which 97.5% of it is occupied in sea water, and can actually use are 0.8% of only water on the earth, such as groundwater and lakes-and-marshes water. And the amount of fresh water on the earth is fixed, and does not increase. A global water shortage, and water quality and the fountainhead pollution are advancing from the influence of development of industry, urbanization, the increase in population, etc., and safe drinking water reservation is very important towards the future. Human beings have the responsibility which uses limited resources water effectively.
In the present society, drainage from the household or the industrial drainage which be caused environmental pollution cannot be directly discharged to river.
The water treating agents of SENKA processes this pollution water in advance, and we wish environment maintenance of river.

Flowchart of waste water treatment 
<![if !vml]>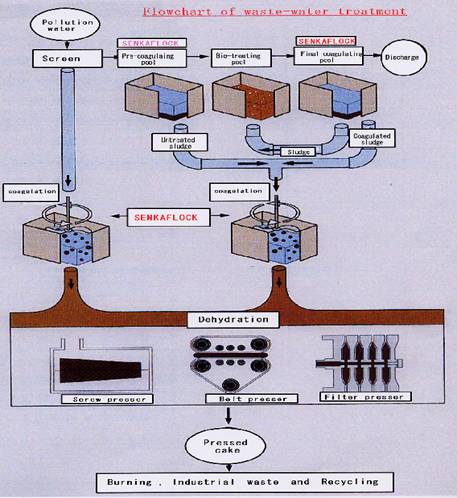 <![endif]>
Optimum coagulants for pollution water
Applicable pollution water

The optimum coagulants

Sewage disposal plant of living

SENKAFLOCK A3097C, M1300C

SENKAFLOCK A1347C, AK3050C

Pollution water of food factory

SENKAFLOCK AK3050C, AS1230C

Pollution water of paper factory

SENKAFLOCK AS1515C

Sewage disposal of livestock (pig, cattle, etc)

SENKAFLOCK AB1597C, A1347C

De-coloration of Dyeing Mill. and Pigment factory

SENKAFLOCK Z-150C, S3020A
SENKA DECOLORATION SYSTEM
The colored wastewater discharged from dyeing house, dyestuff factory and ink factory does not directly discharge to river because it is caused water pollution. It should be settled the colored matters and organic substance in wastewater before discharging to river. Make it possible by SENKAFLOCK series.
SENAFLOCK SERISE
PRODUCT NAME

CHARACTERISTIC

SENKAFLOCK series

High polymer coagulants with positive charge and negative charge, and there are powder type and liquid type (w/o emulsion), applies to all kinds of pollution water discharged from manufacture.

SENKAFLOCK Z series

De-colorant and coagulant for colored wastewater such as dyes, pigment and others.

SENKAFLOCK DE series

Organic congealing agent. As it is reduced the additive amount of inorganic coagulant, and decreased the amount of sludge. And decreases a water-content of sludge after hydration.

MUKIGYOUSHUZAI series

Inorganic coagulant based Aluminum carbonate and Zeolite.

It has excellent coagulation effect to the aqueous pigments discharged from painting and inking factory, and economical coagulant because it can be treated by simple facilities and easy handling..
(1) De-coloration system for Dyeing Mill. and Ink manufacture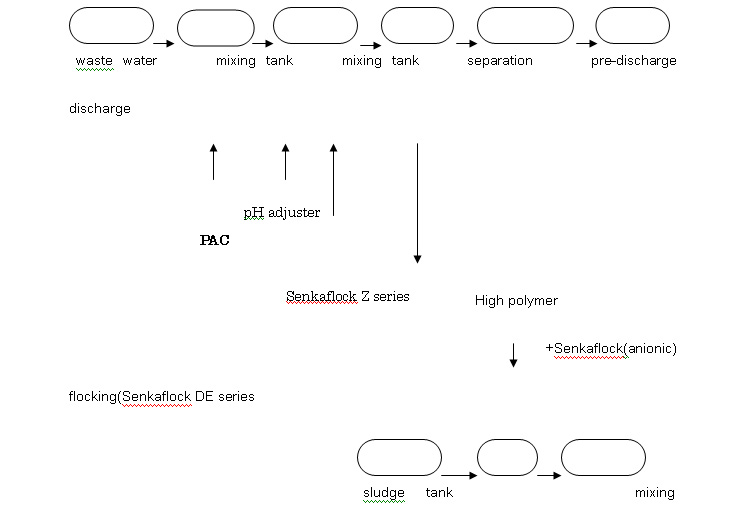 Test 1.Decoloration test of model dyes solution:
*Inorganic coagulant:P.A.C, Aluminum sulfate, Ferric sulfate.
*pH adjuster:sodium hydroxide or Slaked lime(Optimum pH:6~8)
*Senkaflock Z series:Z-150(50~200)
*Anionic high polymer coagulant:Senkaflock DS-1720A(2~5ppm)
<Model dyes solution>
1) Reactive dyes (100ppm)
2) Acid dyes (100ppm)
3) Disperse dye (100ppm)
<![if !vml]>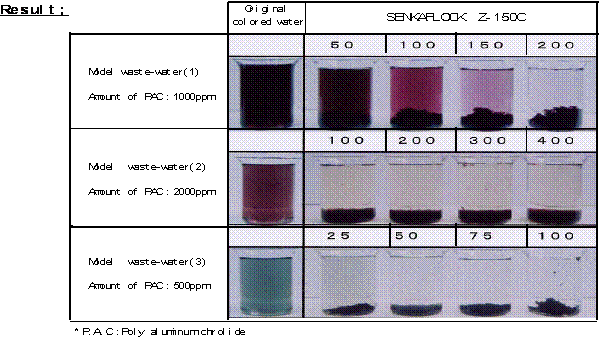 <![endif]>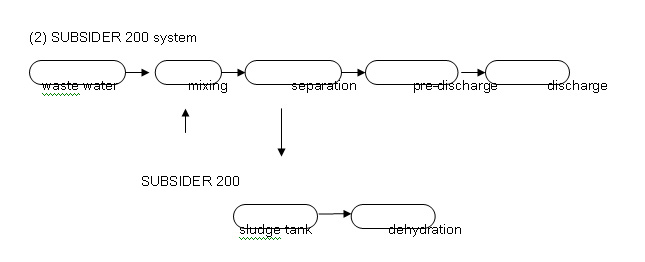 <![if !vml]>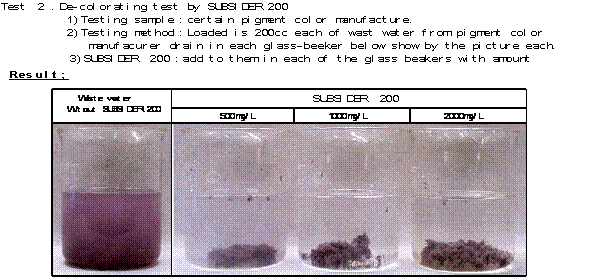 <![endif]>

Repellent 34 Series* :

REPELLENT 34 SERIES are Fluorochemical based water and oil repellents for finishing of various kinds of textiles.

REPELLENT 34 SERIES are giving durable repellency with soft handling to textiles For more details on this product please Click Here

Pigments :

EMACOL CT COLORS are newly developed special color paste for exhaust pigment-dyeing in Garment form processing.

EMACOL CT COLORS have cationic charge and self-dyeing power as well as good affinity to textiles. For more details on this product please Click Here

Cross Linking Agents :

FIXER MCL- 70NT
We now would like to offering the Stilbene based Optical Brightening agents for Textile and Paper industries :

FIXER MCL-400
Cross-linking agent at low temperature for Fluorocarbon resins

FIXER MCL-400 is a newly developed cross-linking agent to meet the quality improvement in the market like higher durability for Water and Oil repellent finishing with Fluorescent carbon resin under only drying and non-curing process. For more details on this product please Click Here
OBA :
Uniphor BT High Conc., Unihpor BT Conc, Uniphor BT Liq., Uniphoe AS - 150, Uniphor AS Liq., Uniphor DSL Liq., Uniphor SP Conc., Uniphor CMS Conc. Please Click Here for more details.]




REPELLENT F-2000 Granules

Solid form Fluorocarbon resin for solvent based Water & Oil repellent

REPELLENT F-2000 is a solid form Fluorocarbon resin to prepare solvent based Water & Oil repellents under local dilution process.

REPELLENT F-2000 (RESIN POWDER)

Appearance : Pale brownish white powder
Component : Perfluoro Alkylacryllate resin
Solubility : Soluble into 1.1.1.-Trichloroethane, Trichloro-Trifluoroethane, Perchlene, Toluene,
ineral Turpentine(slightly cloudy)

PREPARATION OF REPELLENT F-2000 Solution

REPELLENT F-2000(RESIN POWDER) 12kgs
1.1.1. Tri-chloroethane 70kgs
Ethyl Acetate 18kgs
___________________________________________
Total 100kgs

Dilution procedure:

1.Charge 70kgs of 1.1.1. Tri-chloroethane into dilution tane with heating as well as cooling device, and
heat it up to 70'C.

Since boiling point of 1.1.1. Tri-chloroethane is 74'C, it is recommendable to use deep bottom shape
vessel to avoid over-flow of the solution by boiling or foaming.

2. Add 12kgs of REPELLENT F-2000(RESIN POWDER) gradually under slow stirring.

3. After REPELLENT F-2000(RESIN POWDER) dissolve completely, cool it down under 40'C and add
Ethyl acetate at room temperature and mix them well.

Note: Ethyle Acetate is highly inflammable and so, it should by added at room temperature(25C') with
proper ventilation. Then, seal Cap of container tightly.

4. Filter the solution to remove insoluble matters and pack into closed seal container.

Remark:


Since diluents are inflammable solvents, non-explosive machinery is required and handle to be care in whole dilution process.

Storage of diluted solution to be in dark/cool place and catching the fire.

General properties and Application for Solvent based Water & Oil Repellents prepared with REPELLENT 2000 (Solid resin) :

REPELLENT F-2000 Solution is a solvent based Fluorocarbon resin Water and Oil repellent for textile finishing, leather coating etc.

Properties :
Appearance : Pale yellowish transparent/semi-transparentliquid
Main component : Fluoro-polymer derivatives
Solubility : soluble in hydrocarbons like Benzene,Toluene, Xylene and Mineral Turpentine Oil.

Features :

1. REPELLENT F-2000 Solution is suitable to give water/oil repellency to the substrates, which can not
be treated with aqueous type water/oil repellents as well as treated material can not have heat as
curing.

2. REPELLENT F-2000 Solution is giving good water and oil repellency to textile as well as leather
products and so on.

3. REPELLENT F-2000 Solution has good compatibility to conventional solvent type resin solution like
Acrylic or Polyurethane resin solution and coated surface with REPELLENT F-2000 Solution will have
good water/oil repellency.

Application:

Prepare 4 - 5%(w/w) solution with hydrocarbons and spray it onto

substrates.

Also see SENKAEYEFIX 54