SENKAEYEFIX 54
SENKAEYEFIX 54 is a fixing agent to improving wet-fastness for indigo denim, and it is able to treating by pad-baking method or exhaustion method.
Properties:
Appearance : yellowish liquid
Ionic : cationic
pH : about 3.5(un-dilution)
Solubility : soluble in any amount of water.
Characteristic:
1. Decreases the dye-falling property after cleaning because of making of this article.
2. Can be used to both Pad-baking way and exhaustion method, and applies both cloth and goods.
3. Gives a vivid and a bluish color for the processed goods.
4. Make possible the fixing effect of top dyes for the indigo denim dyed with the topping dyes such as
direct dyes, reactive dyes and sulphur dyes.
Application
1) Process for goods:

Cleaning with hot water or de-sizing --> Biological treatment-->Top dyeing
-->*Fixing--> Rinsing --> Neutralizing with Acetic acid(0.5~1.0g/L)
--> Soaping(500×5min.)--> Rinsing   
SENKANOL A-300 (2g/L)
* Fixing process:

Notice: After treating by Senkaeyefix 54, Soaps by Senkanol A-300 well.
2) Process for cloth
De-sizing and washing with hot-water --> *Fixing (Padding method)
*Fixing liquid: SENKAEYEFIX 54 : 30~50g/L
NaOH : 3~5g/L
Pad(Pick up 70%) --> Dry(1000) --> Curing(140×3min.)
Neutralizing --> Soaping(500×5min.) --> Rinsing
Acetic acid (0.5~1.0g/L) SENKANOL A-300 (2g/L)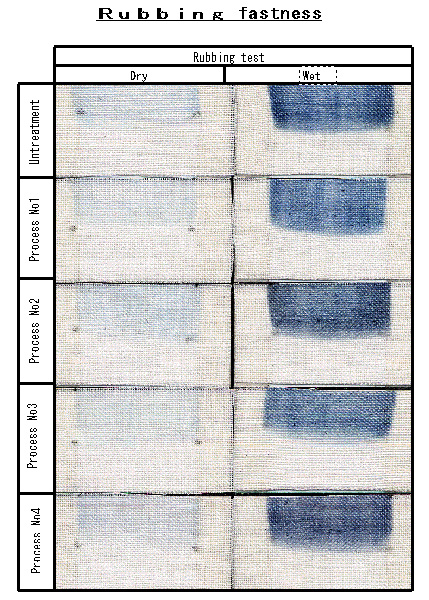 DYE FIXING TEST FOR INDIGO DENIM